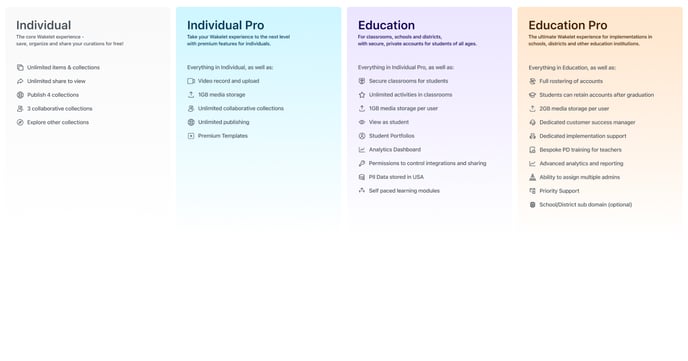 Wakelet has always prided ourselves on being a free platform - helping you create, share, and discover content without any limits. As the platform has grown in both functionality and usership, we've had to make decisions that will guarantee our future as a self-sustaining company.
Over the last year, we've spoken with so many of you in the Community. The teachers, the librarians, the administrators and the tech coaches. Taking on all of your feedback, and we're ready to introduce some new changes that will help you achieve even more on the platform, whilst ensuring we continue to provide the solutions that you love.
The new premium plans on Wakelet will open up opportunities to take your Wakelet experience to even further heights - offering you exciting new features, greater scalability, and robust systems that all work together to create the ultimate learning environment. It will provide our community with more choices when it comes to what you use the platform for, and what goals you wish to achieve.
For those of you who currently have a Wakelet account - we will continue to honor our promise to you. Everything that you can currently do on the platform, you'll continue to be able to do for free. We won't be removing or restricting anything from your accounts. For new users, there will be a few changes to the way classrooms and collaboration works, along with student accounts and public profiles.
Building a platform like Wakelet comes at a cost, especially with an ever increasing number of students and educators using it across the world. The engineering involved in creating the solutions you love, along with the support we provide this incredible community, is something we want to continue to do far into the future.
Giving people the opportunity to pay for premium features will support our costs, allowing us to keep investing in a robust platform that meets the demands of every educator and learner across the world.