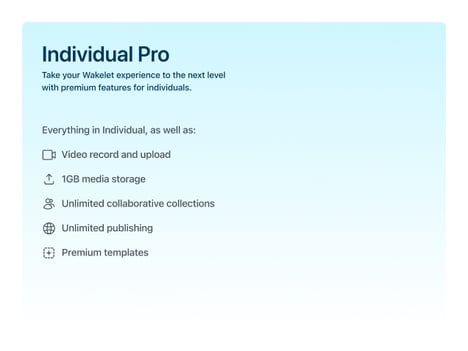 Let's walk you through the Wakelet Individual Pro Plan, a comprehensive package designed to provide our users with unlimited creative freedom and collaboration opportunities. Whether you're an educator, a content creator, or a general user seeking more from Wakelet, this plan is designed with you in mind.
Core Offering
The Individual Pro Plan comes with a robust set of features:
Create unlimited items and collections: Express your creativity with no limits. Create as many items and collections as you desire.

Explore other users' collections: Browse through other Wakelet users' collections for inspiration and discovery of new content.

Unlimited collaborative collections: Collaboration is key to great ideas. The Individual Pro Plan allows for unlimited collaboration, making it easy for you to work together with others.

Share a link for others to view: Sharing your collections with others is straightforward. Generate a link to your collections and share it with others for viewing.

Unlimited collections published to a profile: Keep your profile comprehensive and diversified. With the Individual Pro Plan, you can publish as many collections as you want to a profile.

Ability to record/upload video: Bring your collections to life by recording or uploading videos directly to Wakelet.

Storage limit: Store and manage your content effectively with a storage limit of 1GB.
Classrooms
Classrooms will be available starting from August.
Alongside the core offering, the Individual Pro Plan extends its functionalities to educators:
Time-bound trial for classroom creation and student activity creation: Experience the platform's capabilities with a trial period that allows for the creation of classrooms and student activities.

Sharing permissions: Class, School, District, Everyone: Choose who can access your classrooms and activities. You can share your content with your class, your school, your entire district, or make it public for everyone to view.

Admin manages integration permissions: The administrator retains control over integration permissions, ensuring the smooth management of your educational content.
That wraps up the core offerings of the Wakelet Individual Pro Plan. If you have any more questions or need assistance, the Support Team is ready to help.