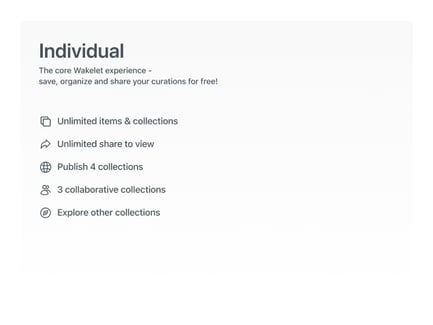 Let's take a closer look at the Wakelet Individual Plan. This plan is built to provide a wide range of features to make exploring, creating, and sharing both easy and efficient.
Core Offering
The Individual Plan provides several key features:
Create unlimited items and collections: There are no bounds to your creativity with the Individual Plan. You can make as many items and collections as you desire, for a limitless Wakelet experience.

Explore other users' collections: Broaden your horizons by browsing the collections of other Wakelet users. It's a fantastic opportunity to draw inspiration and discover exciting new content.

Collaborate on 3 lifetime collaborative collections (created and joined): Collaborate and contribute to a total of three lifetime collections. These collections could either be ones you've created yourself or ones you've joined from others.

Share a link for others to view: Making your collections accessible to others is easy. Simply generate a link for your collections and share them for others to see.

Limited to 4 collections published to profile: You can publish up to four collections to a single profile. Once you have published these four collections, you cannot rotate or replace them with new ones.
Wakelet Classrooms
Classrooms will be available starting from August
Alongside the core functionality, the Individual Plan extends its capabilities to educational purposes. Here's what it offers for classrooms:
Time-bound Trial for classroom creation and student activity creation: Test out the features with a trial period that allows for the creation of classrooms and student activities.

Sharing permissions: Class, School, District, Everyone: Control who sees your classrooms and activities. You can choose to share your content with your class, your school, your entire district, or make it available to everyone.

Admin manages integration permissions: The administrator retains control over integration permissions, ensuring seamless management of your educational content.
That's a quick rundown of what the Wakelet Individual Plan has to offer.
If you have any more questions, feel free to reach out to the Support Team who will be more than happy to assist you.