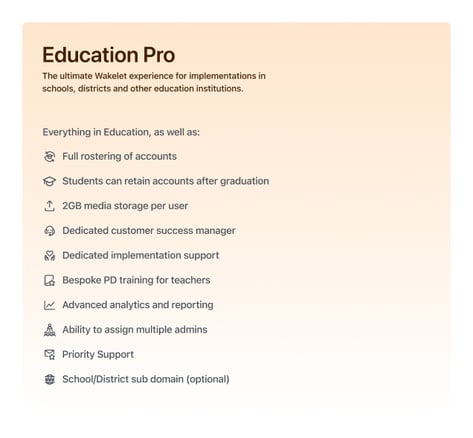 We're delighted to introduce the Wakelet Education Pro Plan, our premium offering designed to revolutionize the way educators teach and students learn. This comprehensive package boasts a wealth of features crafted to enhance collaboration, encourage creativity, and streamline classroom management, setting a new standard for educational technology.
Core Offering
The Education Pro Plan comes with an impressive set of features:
Create unlimited items and collections: Fuel your creativity with no boundaries. Create as many items and collections as you need.
Explore other users' collections: Expand your knowledge by browsing through the collections curated by other users. It's an excellent opportunity to share knowledge and discover sources of inspiration. Please note that access to the Explore feature is exclusively available to teachers on the Education plan. Students in Classrooms will not have the ability to view Explore content.
Collaborate on workspaces: Promote collaborative learning by working together on workspaces. The number of collaborators equals the number of users in your plan.
Invite guest users to collaborate: Enhance the learning community by inviting guest users to join your collections.
Share a link for others to view: Make your collections accessible to a wider audience by sharing a direct link.
Unlimited collections published to a single profile/page: Keep your profile diversified and comprehensive with unlimited collections published to a single page or profile.
Access to premium templates: Give your collections a professional touch with our premium templates.
Ability to record/upload video: Make your collections more dynamic by recording or uploading videos.
Storage limit: Manage your content effectively with ample storage of 2GB.
Ability for students to build and take portfolio with them: Empower students to build their portfolio on Wakelet, a valuable asset they can carry with them beyond the classroom.
Classrooms
In addition to the core offering, the Education Pro Plan extends its features to help manage classrooms:
Automated Classroom Creation: Creating classrooms is made easy with our automated options. You can choose to either upload a CSV file or utilize integrations with Clever, Classlink, Google, and Microsoft to streamline the process and efficiently set up your classes.
Customize classrooms: Personalize your classrooms with unique names, profile images, and more.
Advanced overview analytics: Gain deeper insights into your classroom's performance with our advanced analytics. You can also download a detailed PDF report for comprehensive overview.
Handle inactive classes: Manage your inactive classes effectively without disturbing your active workspaces.
Sharing permissions: Control who sees your classrooms and activities. Share with your class, your school, your entire district, or make it accessible to everyone.
Multiple classrooms admins: Delegate responsibilities efficiently by assigning multiple admins to your classes.
Audit log on request: Maintain transparency and accountability with access to the audit log upon request.
Data stored in the US: All PII data is securely stored in the United States.
Support
Our commitment to provide an unrivaled user experience extends to our support:
Prioritised Support: Our dedicated support team is always ready to assist you, ensuring you have a smooth and enjoyable Wakelet experience.
Professional Development: Stay ahead of the curve with our professional development programs.
Enterprise Features: Enjoy the benefits of our enterprise-grade features designed to meet the demands of large-scale users.
Dedicated Customer Success Manager: Get personalized assistance from your dedicated Customer Success Manager.
Implementation support for schools and districts: We offer comprehensive implementation support to ensure seamless integration of Wakelet into your school or district's workflow.
The Wakelet Education Pro Plan is a comprehensive solution that combines functionality, innovation, and support, designed to cater to the dynamic needs of educators and students alike.
Ready to get started? Contact us at sales@wakelet.com to learn more about our exceptional plan and how it can transform the way you curate and share information. Our dedicated community team is here to answer any questions you may have and guide you through the process. Don't miss out on this opportunity to unlock the full potential of Wakelet.